WHITEPAPER
Composable Commerce Reference Architecture
In partnership with commercetools and Google Cloud, Orium created the Composable Commerce Reference Architecture to help retail and commerce CIOs and technology leaders evaluate a move to a modular platform. If you're currently using a monolithic or homegrown commerce platform, this resource will help you plan for a future built on MACH technology architecture and full of opportunities.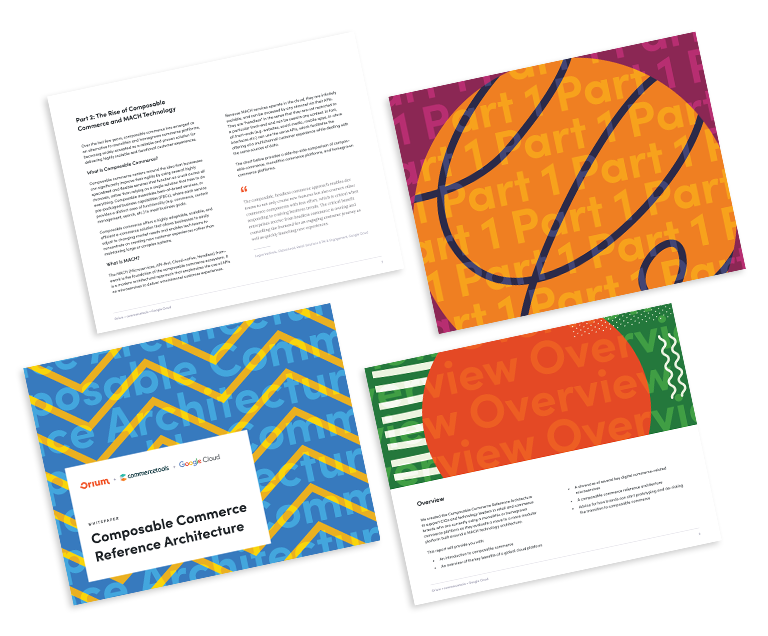 This report provides:
An introduction to composable commerce
An overview of the key benefits of a global cloud platform
A showcase of several key digital commerce-related microservices
A composable commerce reference architecture
Advice for how brands can start prototyping and de-risking the transition to composable commerce
Other resources you may find interesting
E-Book
The Foundations of Composable Commerce at Scale
Get our free e-books to learn how to do composable commerce the right way. Where to start, considerations along the way, and optimizations for success.
Accelerator
Accelerating Next Generation Experiences
Deliver next generation omnichannel experiences with Orium's commercetools Accelerator.
Insights Article
How Composable Commerce is Playing a Key Role in SiteOne's Digital Transformation
A synopsis of a recent Retail TouchPoints webinar on the benefits of composable commerce transformation featuring a case study of SiteOne.