Key Takeaways
Customers expect to interact with multiple digital touch-points and tailored experiences throughout the customer lifecycle.
Seamless tailored experiences start with a consolidated view of the customer across all brand touch-points.
Brands need to provide the appropriate level of automation and orchestration to assist customers along their journeys.
Modular digital experience platforms accelerate ease of management, time to value, and future-proof investments by introducing agility and extensibility into your digital experience stack.
Gone Are the Days of the Monolithic, Digital Experience Platform
Now is the time for modularity. To remain competitive, brands need to differentiate themselves through providing a premium integrated digital experience. As customer expectations about digital engagement are rapidly shifting, many brands are struggling to keep up. Unfortunately, legacy, monolithic architectures are slowing down even the most innovative, forward thinking brands. Instead of building with the customer, these legacy technologies create either digitally siloed experiences with limited data analysis or all-in-one platforms with minimal flexibility and extensibility. And the longer brands sit on legacy architecture, the more customer dollars are walking out the door.
Here, There, Anywhere: How Selling Evolved for the 21st Century
When internet-shopping emerged in the early 2000s, most buyers still preferred brick-and-mortar experiences and only turned to online options when in-person buying wasn't feasible. Fast forward to 2020, and online sales represent a significant portion of North American commerce — and a clear opportunity for continued growth.
"Brands who have embraced integrated digital experiences are surging ahead, and those who remain digitally siloed are losing their competitive edge".
Two key changes occurred over this 20-year time span. First, the emergence of the digital-native business model; and second, a shift from in-person to omnichannel purchase journeys. The former forced retailers to adapt to the online world of sales quickly, while the latter pushed a new era of consumer convenience and an anytime, anywhere approach to shopping that continues to alter how brands operate every day.
These shifts set the stage for what we're seeing now: brands who have embraced integrated digital experiences are surging ahead, and those who remain digitally siloed are losing their competitive edge. Add to that the increased customer expectations of convenience and the multiple touchpoints that continue to expand with the rise of ambient and immersive interfaces, and there's now an imperative for brands to have the same dedication to integrated digital experiences that they previously applied only to in-person sales.

The Move to Monolithic Platforms
Many brands recognized their ever-expanding landscape of digital silos and their inability to respond at scale in a truly tailored fashion to customer intent and seeing this unmet need, several large technology vendors brought monolithic digital experience platforms to the market. These single-vendor platforms have the benefit of pulling together a set of integrated tools that can be used to deliver digital experiences to the masses without the need to perform custom integrations between countless disparate tools.
When these big tech vendors began to launch their digital experience platforms, they acquired and built an initial set of features to serve their customers. These features offered immediate out-of-the-box value, and as more brands were attracted to the platforms, vendors continued to acquire and build features into their rapidly expanding offerings. While these platforms now offer a full suite of integrated tools for digital commerce, often including the consolidation of customer data, they come with four critical challenges:
1. Enterprise pace
The speed at which these platforms evolve typically matches that of the enterprises that own them. This can limit the features available, pushing many brands to integrate third-party solutions to keep up with customer expectations and to avoid being outpaced by their competitors.
2. Extensibility & adaptability
These platforms don't typically support the modular headless architectures that allow them to easily integrate with other tools natively. For many brands, this means having to ditch well-performing technologies, or to create new digital silos using best-of-class tools, to avoid paying a premium to have a third party tool integrated into the platform.
3. Proprietary application development
Even with these out-of-the-box platforms, application development is still required to bring digital experiences to life. Many of these single-vendor platforms incorporate proprietary documentation, development scripting languages, and certification programs available to a curated list of partners, driving up the cost and availability of application development talent.
4. Best available vs best-in-class
In many cases, vendors acquired the best option for acquisition, to grow their platforms, not the best-in-class solution. This means platform features may not be the best performing choice for any given brand.
In response to these challenges, multi-vendor modular digital experience platforms have emerged to allow brands to easily integrate disparate digital silos. Modular digital experience platforms are built around headless cloud technologies, and are backed by industry organizations like the MACH Alliance. These adaptable and extensible platforms are built to propel digital experiences, while future-proofing enterprise technology investments.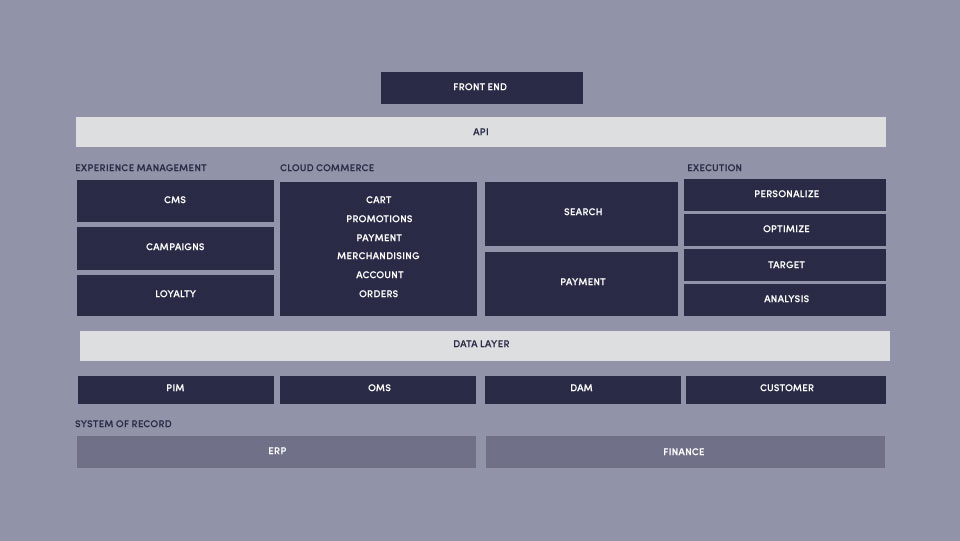 Delivering Integrated Digital Experiences
The goal behind fully-integrated digital experiences is customer loyalty, nurturing long-lasting relationships, and ultimately, increasing customer lifetime value. Every retail brand, enterprise technology company, and field sales organization needs to consider a few crucial elements as they prepare for a continually evolving digital landscape and rapidly shifting customer expectations.
Digital Silos vs Integrated Experiences
Customers interact with brands not only through websites, but through social networks, mobile apps, voice assistants, chatbots, in person, over the phone, and more, with a back-and-forth mix of product research, direct conversations, review comparisons, and price checking all leading to an eventual purchase decision. The explosion of digital channels and experience types—along with changes in customer behaviour—renders the old sales concept of a linear path to purchase obsolete, complicating a formerly predictable sales funnel.
Operating across channels and offering multiple digital experiences has become the baseline expectation for brands. If you try to force a customer into a pre-set path, they are likely to abandon your brand for one with less digital friction. For many, however, these experiences have been created as standalone solutions, with minimal front-end customer journey and back-end customer data integrations. The single-point solution approach has its merit in getting digital experiences in-market quickly, but what brands gain in speed, they often lose to a disjointed customer experience and siloed customer data.
"If you try to force a customer into a pre-set path, they are likely to abandon your brand for one with less digital friction."
Generic Paths vs Orchestrated Journeys
To organize a shared understanding of how customers engage across varied channels and touch-points, most brands maintain documented customer journeys in one form or another. These journey documents may have at one time been presented around the walls of a boardroom to drive stakeholder alignment, but typically live in a digitized format.
Customer journey mapping that incorporates primary and secondary research is an invaluable input to defining and prioritizing integrated digital experiences. The traditional approach to journey mapping, however, is often conceived as a one-size-fits-all solution—each journey having a beginning, middle, and end—which differs from how customers engage digitally with brands. Furthermore, traditional journey maps are static artifacts incapable of responding quickly to changing signals around customer intent.
Seeing the explosion of touch-points and steps in the customer journey is enough to set any head of sales on edge, it's not as random as it sounds. While any single customer interacts in a seemingly random way, we've come to understand that customers engage with brands like improvisational jazz musicians, creating their own melody yet displaying predictable patterns that help companies build curated journeys.
Modularity Is Better for Business
Since Myplanet's inception, we have designed and developed a wide variety of digital experiences for our customers and have worked across all three paradigms for digital experience delivery: digital silos, monolithic, and modular digital experience platforms. We've observed the changes in consumer expectations, the rapidly evolving digital landscape, and have found ourselves frustrated alongside countless others about the failed promises of monolithic platforms. Because of this, in 2019 we took the position of 'headless by default'— assuming that a headless architecture was best for each of our customers until proven otherwise.
In the past few years, we've made extensive investments alongside our headless technology partners. We now specialize only in the delivery of headless commerce solutions driven by modular experience platforms.
Pillars of a Great Modular Digital Experience Platform
Having had the opportunity to deliver many headless commerce solutions through modular experience platforms, we've identified a set of five pillars that guide all of our work with brands, big and small.
1. Keep customer data at the core
Tailored digital experiences are only possible if you know your audience, which requires a blend of quantitative and qualitative customer data to strengthen hypotheses about customer goals, preferred paths to completion, and what may improve your customer's experience with your brand.
In order to ensure reliable real-time access to customer data across online and offline channels, we partner with leading CDP (Customer Data Platform) providers to help brands with the consolidation, enrichment, and segmentation of customer data. This real-time data helps brands to understand how investments influence customer behaviour across channels, and contributes to the prioritization of future investments. This mentality ensures quantitative customer data is a real part of the design process, instead of something you can only collect once the platform is live. We blend quantitative data with comparative analysis and other techniques to inform strategy from day one.
2. Start with predictable patterns
Customers prefer consistency in experience, yet their attention is easily pulled toward novel interactive features. To support customers with valuable goal completion, while reinforcing brand experience, the right blend of predictable patterns and signature experiences must be delivered.
After many years of redesigning the same core patterns of digital experiences we realized there must be a better way. We have recently released our Commerce Accelerator to provide our customers with a library of predictable patterns with proven responses. Starting projects from these accelerated patterns allows us to provide a faster time-to-value and to spend more time focusing on the novel premium features that excite and keep the attention of consumers.
3. Integrate experiences across all channels
Customers start their journey in the channel they find most convenient and want the ability to continue uninterrupted and without the feeling of running into a dead end. Ensuring a premium integrated digital experience requires two things: 1) understanding which experiences customers prefer in different digital channels, and 2) allowing for seamless transition between experiences where necessary.
We've all been transferred three or more times on a customer service phone call with a brand only to find ourselves back where we started in the end, but with a higher heart rate and a shorter temper. We believe the difference between a standard digital experience and premium integrated experiences is expertise in the strengths and limitations of emerging form factors and surfaces— when to lean in and when to hand-off to a better channel for improved customer experience. To ensure we're aware of what's going on at all times, we spend time working alongside industry leaders exploring voice technology, chatbots and AI, extended reality, and countless other methods of digital engagement.
4. Automate and orchestrate journeys
The promise of the past few years in digital has been getting the right message in front of the right customer at the right time. But customers aren't looking for gimmicks, repeated emails sent by unpredictable triggers, or banner imagery that has the uncanny ability to predict the last page they visited.
What customers are looking for is a personalized relationship with a brand: a gradual development of the brand's understanding of their preferences that leads to a tailored experience. They want a relationship that feels like a digital advisor or concierge each step of the way. This is something Myplanet has focused on from our inception, making extensive investments in understanding the signals that predict intent. This helps us evaluate the top tools for building scalable digital journeys.
5. Build with headless architectures
The greatest advancement in digital architecture in the past decade has been headless. This modular, decoupled pattern allows for separation of concerns and the ability to compose a single set of back-end technologies that can be used to simultaneously manage countless front-end integrated experiences.
We've been building headless commerce solutions for years, which is what gave us the confidence to go 'headless by default'. We are continually excited by the emergence of enterprise grade headless technologies that can be brought together as a bespoke modular digital experience platform to serve the individual needs of our customers.
Back to Essentials
Even with the changes to customer expectations and the technology landscape, however, the essentials have stayed the same. Understanding what your brand needs, how it differentiates from competitors, and where leadership strategy is guiding it for the future are still the first and most important elements to starting a digital transformation. Only after you have evaluated these elements can you make an informed decision around the execution of your digital experience strategy. We firmly believe that nearly every brand is better off with a headless, modular foundation, but not every business needs the same platform or the same scale of solution.
Brands that build with modular digital experience platforms will be the leaders of their categories. They will be prepared to deliver premium integrated digital experiences in every channel and will have the consolidated customer data required to orchestrate tailored journeys for their customers across all channels.
Everett Zufelt

Everett Zufelt is VP Product at Myplanet, working with advisors, partners, and customers to translate market signals into strategic investments in solutions that help our customers outpace their competitors.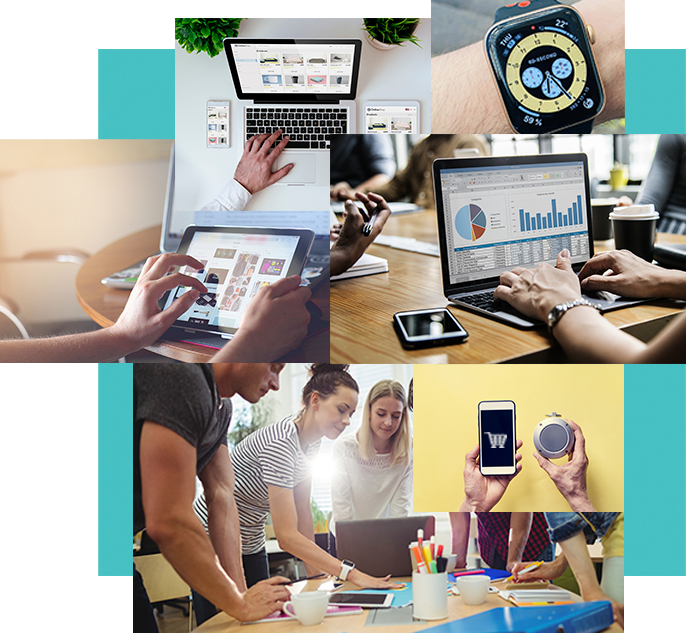 Assess Your Digital Commerce Maturity.
Get insights to inform the next phase of your digital journey with our survey assessment and determine what level your organization is at:

· Emerging
· Maturing
· Advanced
GET STARTED
Our Clients
Organizations with the power to change the world. If you're in that camp, we'd love to chat.